---
Making the Best Beer: Choosing Your Wort Plate Chiller
It is well known among Master Brewers that brewing beer is a very delicate process. Most will agree that it is even more so than making wine. A disruption in any of the steps of the brewing process of the wort or unfermented beer, will significantly influence the final taste of the beer. Therefore, choosing the right wort plate chiller is one of the most important decisions when it comes to brewing your beer.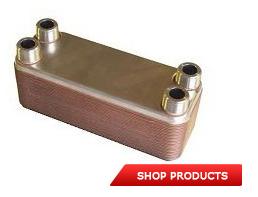 Quality of your wort plate chiller:
The quality of your wort plate chiller will have a significant impact on the wort. If it is not constructed of high quality materials, it will most likely disrupt the beer brewing process. Brazetek offers several wort plate chillers to help you produce a good tasting beer. We offer various wort plate chillers made of durable materials constructed to keep your wort cool during the brewing process. All of the wort plate chillers available at Brazetek include:
316L Stainless Steel Plates
Copper Brazing (99.9% pure Copper)
Connections: 3/4" MNPT
Brazetek also offers wort plate chillers with 16, 20, 26, 30, 40 and 50 plates. All Brazetek wort plate chillers have ¾" MNPT connections. Adaptors are not included and must be purchased separately if needed. Adaptors can be easily found at any major home improvement store, like HomeDepot, or online.
The working parameters for any wort plate chiller from Brazetek include a Design pressure (max): up to 435 psi (30 bar/3.0 Mpa) and Design temperature (max): -256°F/437°F (-160°C/ 225°C). Brazetek wort plate chiller cools your beer within minutes!
---
Keeping your wort plate chiller in working condition:
When it comes to keeping the wort chiller performing at its best, consistent, preventative maintenance is the key. Because of the tight space between the plates, the wort plate chiller has many places for cold break, hop material, to become stuck and hide. The wort plate chiller needs to be cleaned and sanitized on a regular basis to ensure that it does not get clogged and it cools the wort. The best way to clean a wort plate chiller is to:
Recirculate a heated solution of an effective cleaner (such as powdered brewery washing solution) through the wort plate chiller for a minimum of 20 minutes.
Backflush the wort plate chiller with the solution to get rid of any extra material.
Sanitize the chiller by running a sanitizing solution through the wort plate chiller right before starting the beer brewing process.
These steps should be performed prior to every brewing to help avoid clogging of the wort plate chiller and to help ensure that your wort is kept cool. It will also prevent problems with your next batch. Additionally, a Thrumometer can also be used to help control the temperature of the wort coming out of the wort plate chiller.
Be sure to browse through the Brazetek brochure for more specific information about the wort plate chillers currently available. Brazetek is also one of the leading suppliers of efficient, compact and low cost brazed plate heat exchangers. Contact us today at 718-874-0197 with any questions you may have.