---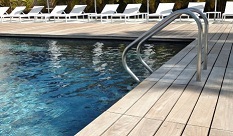 Swimming pool heat exchangers - Shell & Tube (316L Stainless Steel & Titanium)
Among the most common uses of Brazetek ST and STX series shell & tube heat exchangers is heating the swimming pool water.
The process presents several challenges, with each one being successfully addressed by Brazetek.

For a complete list of Brazetek Swimming Pool Heat Exchangers click here.
Challenges

Solutions

Chlorine

: Majority of the swimming pools are treated with chlorine to prevent growth and spread of bacteria, mold and viruses. Chlorine itself it highly corrosive to copper, brass and other common plumbing materials, which requires the heat exchanger to be chlorine-resistant to perform well over the long term.
Brazetek ST series heat exchangers are manufactured from all-316L surgical grade stainless steel, which is highly resistant to corrosion. Fully welded seams on these swimming pool heat exchangers assure durability of the unit for years to come.

Salt water

: Pools which contain salt (sea) water cannot utilize any traditional, including stainless steel heat exchangers. This presents a major difficulty and often a necessity for high-cost, specialized equipment.
Brazetek STX series shell & tube heat exchangers are manufactured from Titanium, which has a strong corrosion resistance against both sea water (salt water) and chlorinated water (even in high concentrations). Titanium heat exchangers will last a lifetime in any residential application without the need for replacement.

High flows

: Given the high volume of water which needs to be heated, a swimming pool heat exchanger must be able to provide adequate heat transfer efficiency to maintain the desired water temperature.
Both ST and STX series pool heat exchangers feature large inlet/outlet connections, allowing for high flows typical for swimming pool heating applications. Although Brazetek has a large variety of models with various connections sizes, any inlets/outlets can be reduced to the desired pipe size utilizing appropriate bushings or reducing couplings.

Equipment and installation costs

: High cost of pool heaters and pool heat pumps, couples with installation and maintenance costs, make having a pool a liability rather then a source of enjoyment.
A swimming pool (shell & tube) heat exchangers in conjunction with a typical boiler (whether indoor natural gas or outdoor wood fired) can effectively replace a pool heater or a pool heat pump at a fraction of the cost with no need to worry about the high installation and maintenance costs. These heat exchangers are light-weight, durable and come with mounting brackets for a quick and easy installation.

Fouling

: A pool filter is a must for any permanent pool to prevent fouling of the in-line piping and equipment, but pool filter manufacturers often do not extend their warranty of other equipment (heater and heat pumps) and so the maintenance and replacement costs have to come out of the customer's pocket.
The internal design of the heat exchanger swirls the water which passes through it at high flow rates and keeps the particles and sediments suspended in water, creating a self-cleaning effect.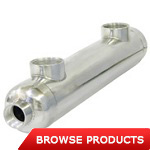 Brazetek advantages:
1. Whether your pool is 5,000 gallons, 100,000 gallons or somewhere in between, Brazetek is guaranteed to have the right model for you at the right price.
2. Brazetek has the largest variety of pool heat exchangers on the market with largest selection of connection size and is one of the few who offer both 1-sided (models with "B") and 2-sided connections.
3. Brazetek swirled tubes (tube bundle) inside the heat exchanger offers greater heat transfer efficiency than competitor's models.